Upcoming Events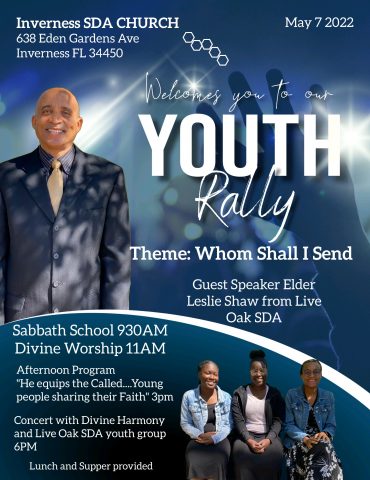 The Inverness SDA Church will be hosting a Youth Rally May 7, 2022 at the Inverness SDA Church.  The Youth Rally will start with Sabbath School at 9:30 AM and will include the Divine Worship, an Afternoon Meeting at 3:00 PM, and a Concert at 6 PM by Divine Harmony and the Live Oak SDA Youth Group. Lunch and Supper will be provided.
The youth and their sponsors (youth leaders/parents) from each of your churches are welcome as our special guests.  We are asking that each of your churches advertise and promote this special event.
Our Youth Rally will focus on our youth's active involvement in our church with our afternoon activity emphasizing and exploring our youth taking an active role in sharing their faith.
As a result of this Youth Rally, we would hope to learn from our youth ways to promote their involvement in their own churches and perhaps promote more ways our churches, united, can cooperate as we co-labor for our youth.
For more information, contact Carol Wyckoff at 352-770-2844.
Past Events
BeyondPews Youth Weekend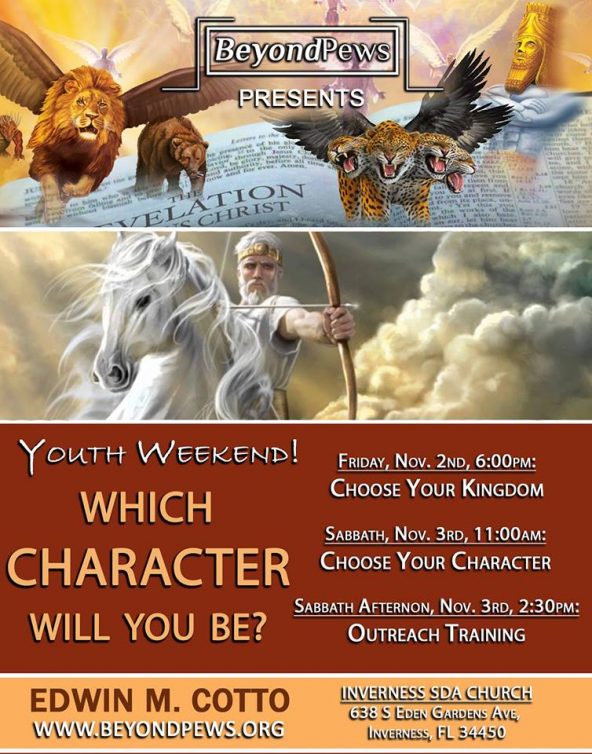 Youth Emphasis Weekend Schedule