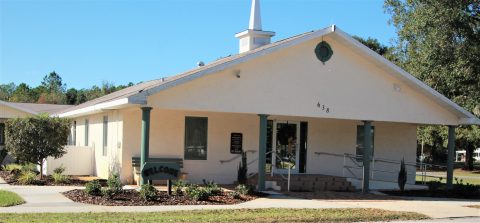 Dear Member or Guest,
As you know we are all very blessed to be able to worship together again for spiritual enrichment and fellowship.  However, this does not mean it is advisable that you attend. Here are some facts that should help in making your decision to attend or not attend.
• "Vulnerable Individuals" are at higher risk of death and serious illness if they become infected with COVID-19. Vulnerable individuals are:
• Individuals age 65 and up.
• Individuals with serious underlying or pre-existing health conditions, including high blood pressure, chronic lung disease, diabetes, obesity, asthma, and those whose immune system is compromised such as by chemotherapy for cancer, and other
conditions requiring such therapy.
If you decide to attend we want you to be aware of what we are doing to try to mitigate any risk of spreading the virus as well as the guidelines we would like you to follow.
• Face masks are recommended. These can hinder the transmission of the virus.
• Hand Sanitation Stations will be available. Please use them to lower risk of transmission.
• We will be following social distancing of 6 feet. 
• Practice touch-less greetings instead of hugging, kissing or hand shaking.
• Avoid touching your face or other's faces.
• Sneeze or cough into a tissue or the inside of your elbow.
• We have and will continue to disinfect frequently touched surfaces such as the tops of pews, door handles, faucet handles, drinking fountains etc. Be sure to disinfect your hands after touching frequented surfaces.
• Anyone experiencing any symptoms of COVID-19 should stay home.
• Avoid congregating in groups. Do not linger in the foyer put pass quickly through it.
• If lines are formed please maintain 6 feet between yourself and others.
Every Saturday you are welcome to come and worship with us, no invitation needed! Come just as you are and be assured, you will be welcomed! You will be blessed as you worship with our church family!
We hope that you will visit us soon. If there is anything we can do for you, call or email us today. We look forward to your visit!